Why Learn from the Rest…
When You can Learn from the Best!
Surfline Rhodes, a place to make friends…
For more than 3 decades Dimitris Karnaris is: founder, heart and soul of Surfline Rhodes. He is still living his passion as an Instructor! And by this passion, he found his other part… Today it's more than 20 years that Dimitris and Martina are running the Center as an unbeatable team! Over the years they create a unique windsurfing spot. Specialized on each level and needs, with a friendly, family atmosphere! The combination of "old school" and "young" experienced Instructors makes this place special and gives the center a unique touch!
Accessories' in wide range and sizes by: Dakine, Billabong and Ion: Harnesses, Wetsuits
Brand new: STARBOARD + SEVERNE and top gear.
During opening hours always observant: our Baywatch and rescue service! Anytime on standby and free of charge: Rescue boat and / or Jet Bike for safety.
Free WIFI for all guests around the whole center area!
The windy shadow pavilion: A place to take a break before next session, with free view to the action zone!!!
Several locker for your private needs! (Key can be stored safety at the center desk)!
Center Security: During night all storage areas are safe by alarm system and strong searchlight!
Equipment cleaning station's, Beach Volleyball and nearby sun beds!
Station opening hours from May – October: 9:00am. until sunset 7:00pm.!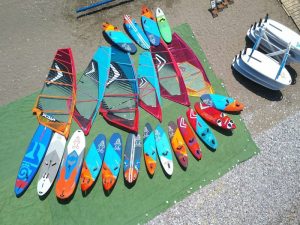 What People are Saying About Us

A great windsurfing club with very friendly and helpful staff. My wife and friends who had never surfed before received amazing experience and a lot of fun. It was one of our best windsurfing holidays?‍♂️. No doubt we will come again!
Thank you guys for this incredible time
 Me and my boys 13 and 10 took 5 hours of windsurfing demonstration, really clever and nice staff show us how to use the equipment.
After 5 hours we managed to windsurf, turn and have fun !  Thanks a lot for this great experience . Greetings from Norway
LOCATION // SPOT // CONDITIONS
Surfline Rhodes Watersport Center is located at the north-west coast of the Island, directly at the sandy-pebble beach of Ixia! The first hot spot close to Rhodes town, with only 3km distance. The center present itself over an area of about 600m² pure watersports, with perfect wind + water conditions. In the immediate vicinity you find several hotels between 3 and 5 stars. For our guests from Rhodes town: a big parking area direct behind the center. Nearby you will find small bars, cake/coffee shop, supermarket and "Valentina's Place"! A place to meet the friendly mentality of local people, while enjoying small Greek dishes!